Vacancy Rate at Logistics Facilities in the Greater Tokyo Metropolitan Area Continues to Decline / CB Richard Ellis - (28/02/2011)
CB Richard Ellis announced preliminary second half (2H) 2010 industrial market data
Key trends in the greater Tokyo metropolitan area
- The average vacancy rate fell 2.2 points to 11.5%, the lowest rate since the fiscal year ended December 2007.
- Demand improved, especially from companies servicing the domestic consumption. Demand was higher for large facilities along the bay areas of Chiba Prefecture.
Greater Tokyo
The average vacancy rate in the greater Tokyo metropolitan area slipped 2.2 points to 11.5%. Some vacancies in relatively new facilities—which had been a factor of rising vacancy rates—were filled. The vacancy rate at existing facilities (whose age of buildings was over one year) declined 2.5 points to 9.9%. The term under review saw a noticeable increase in the occupancy ratio given the onsite expansion of lease area by tenants.
Gaps were emerging among some areas. While some properties along the Kanagawa Prefecture bay area had difficulty attracting tenants, demand was firm, and the number of relatively large vacant areas decreased in large bay area facilities in Chiba Prefecture and the Joban area. This trend reflected tenant reorganizations to reduce distribution costs as well as demand for relocation to cheaper facilities. It is anticipated that rents will continue to decrease, albeit at a slower rate than seen in the past.
As planned new supply in 2011 is limited, real-estate investment companies—which had adopted a wait-and-see attitude for some time—have an increasingly strong appetite for development, reflecting the falling vacancy rate. We expect development projects to emerge in the near future. "Domestic demand-led companies, including food and apparel companies dealing in relatively low-priced products, took the lead in tenant movements," says Junichi Taguchi, Managing Director of Industrial Services at CB Richard Ellis. "Inquiries are increasing, especially from listed companies reviewing their logistics bases, and several companies are opening new facilities. Tenants prefer properties with high-level facilities along Chiba Prefecture bay areas, given their ideal location and rents."
Source: CB Richard Ellis Japan
---
+ Truck transportation data from MLIT - (28/02/2011)
According to the truck transportation data from Ministry of Land, Infrastructure, Transport and Tourism, total amount of transportation, combined shipment (the sum of 26 companies) in November 2010 became 5,930,000 ton, 5.2% higher than the previous year. The amount of the courier service (the sum of 17 companies) was 282,600,000, 10.6% higher than previous year.
General cargo transportation has increased 3.3% higher that the previous year. (Answered by 778 companies)
Source: Ministry of Land, Infrastructure, Transport and Tourism (Translated by Bear Logi)
+ Hitachi Transport System will swallow its consolidated subsidiary companies - (28/02/2011)
Hitachi Transport System has announced a merger of its consolidated subsidiary companies, Higashikanto Hitachi Transport Service Co., Ltd. and Keiyo Hitachi Transport Service Co., Ltd.
They are expecting for the operational reinforcement and optimization to improve the transportation service.
The surviving company will be Higashikanto Hitachi Transport Service.
The date of merger is being scheduled on April 1.
Overview of the surviving company after the merger
Company name: Shutoken Hitachi Transport Service
Address: 2-8-4 Saga Koto-ku Tokyo
Business contents: domestic transportation
Capital: 100,000,000 yen
Fiscal term: March
Share holders: Hitachi Transport System 100%
Source: Hitachi Transport System (Translated by Bear Logi)
+ Kikusui Electronics sells their warehouse in Joto, Osaka - (28/02/2011)
On Feb 25 Kikusui Electronics Corp. has announced that they will sell their property (Commercial warehouse) located in Imafukunishi Jouto-ku Osaka city because of its obsolescence, expectation of their asset efficiency, as well as financial reinforcement.
Property Address: 6-2-2 Imafukunishi Jouto-ku Osaka-shi Osaka
Area: Land: 277.81m2
Building: 319.11m2
Affixed to the Building: 495m2
Book value: 89,000,000 Yen
Selling price: 40,000,000
Date of transfer: 5 April 2011
Source: Kikusui Electronics Corp. (Translated by Bear Logi)
+ Industrial complex in Tohoku gradually gathers pace - (25/02/2011)
The Second North Sendai Industrial Area (Ohira village, Miyagi prefecture) is an integrated industrial complex in which Central Motors, part of the Toyota Group, opened its new factory. Interested parties for new business facilities in the area should consider this industrial park due to its well developed infrastructure and proximity to the highway interchange.
Sanei Corporation located in Kariya, Aichi prefecture, which provide placing and maintenance service for machinery, began building construction of its Tohoku branch office inside of the complex. They used to conduct sales in the temporary office, but due to the business expansion of the Toyota group in the complex they will construct their own office and warehouse, that is being expected to be completed on this spring.
Naruse Koken Co., Ltd will also establish its base in the same complex.
Early in this January, Central motor car factory has started its operation. At the same period Toyota group car sheet factory also began the operation in order to deliver its product to the new central motor factory. Late in January Vuteq Corporation also announced that assembly plant for car glasses will be opened in the area. It is definitely a positive cycle.
As a matter of fact, before Central Motor declared its relocation in the complex, only a couple of entities like the food service industry Skylark, had interested in the area.
After successful invitation of Central Motor, the landscape has drastically changed by the additional development.
Taking the integration into account, the municipal Sendai city which also operates gas station, tried to extend pipe line around 20km.
December 2010 Ohira interchange which directly connects to the Tohoku Auto highway started its operation, and it enables Central motor factory to use its parts delivery or completed car delivery. According to the interested parties for new business facilities in Miyagi prefecture, "We receive a couple of inquiries on the second industrial complex because of the improved transportation condition."They point out the positive business cycle.
There are several industrial park in Tohoku that have successfully closed the corporate invitation in adjusting to the complex development plan.
For example, "Shin-Shirakawa Industrial park" (Shirakawa, Fukusima prefecture) in which Yahoo! Inc, Mitsubishi Gas Chemical Company, Inc has decided to move in. "Ichinoseki Higashi Industrial Park" (Ichinoseki, Iwate prefecture) in which a couple of motor parts factories such as Hayashi Telempu Co., Ltd (Nagoya) has been transfered.
On the other hand, there are not quite a few districts that has not been sold.
The municipality should play great roll in as a main player from now on in order to keep the good business cycle.
Source: Nikkei newspaper
Reference: MCG news
+ ShinMaywa Industries delivered waste relay plant to Bangkok - (24/02/2011)
ShinMaywa Industries, Ltd., located in Hyogo prefecture, has announced that they had supplied Saimai waste station in Bangkok with their waste relay plant as a part of its municipal sanitation project.
They announced that it would be the 2nd waste station in the city of Bangkok.
The reason why the city has continuously constructed the relay station appears to be that it had been an insanitary environment under the former sanitary collecting system disposing the wastes with diggers to container.
While Saimai waste station works the central and north area, Nonkem station built in 2007 does the west of the city.The whole city will be covered with the both facilities.
ShinMaywa also has delivered two sets of the plant in Shanghai last year, therefore they are now covering four countries with seven plants including this case.
They also announce that their sales target is now on the growing Asian market.
Orderer: The city of Bangkok
Vendor: ShinMaywa(Asia) Pte. Ltd. based on Singapore and Samcon-New Decade JV's contract
Order amount: approx. 700 million Yen
+ Nitori will be a tenant in Yokohama Logistic Park (YLP) - (24/02/2011)
On Feb 23, IRC Management has announced that they made a lease agreement in Yokohama Logistic Park (YLP) as its 3rd tenant following Sagawa Global Logistics leasing the 6th floor and an un-named third party logistics company on the 4th and 5th floor.
The lease agreement has been reached between Daikoku Distribution Center Special Purpose Company and Daiwa Corporation.
Daiwa Corporation will be a tenant in YLP space, with a total area of 27,000 m2, 2nd story space of 13,500 m2 and 3rd story of 13,500 m2. They are closing a sublease contract with Nitori, and intend to use the facilities as a transportation base.
New tenants are sought for the 1st, a part of the 5th, and 7th floors.
Yokohama Logistic Park (YLP)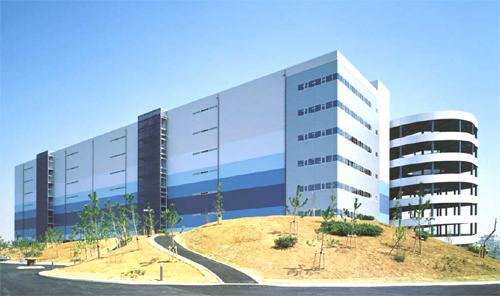 Building features:
- High extension possibility (leasable from 1,000 Tubo/approx. 3,300 m2)
- Multipurpose/efficiency emphasized architectural style
(appropriate column span, high ceiling/floor load ability, track berth)
- Flexibility on tenant's request for specific equipment
(extra space for vertical conveyer)
- Security/Environment/Work-Life-Balance conscious architecture
(CASBEE Yokohama rank A/quake-absorbing structure/Parking lot/Kiosk etc)
Source: RIC Management (Translated by Bear Logi)
+ New transportation facility by Tonami Transportation in Kuki-shi, Saitama - (24/02/2011)
TONAMI TRANSPORTATION CO., LTD., located in Toyama, has announced the concept of the transportation facilities under construction in Kuki-shi, Saitama Prefecture.
Because of the new road construction plan, they move its facilitiy from Okegawa branch office to Kuki. Because its appropriate location from Interchange highway 122 and its adjacent Syoubu-Nanbu-Industiral housing complex, they are expecting the high efficiency of its transportation.
Overview of the facility
Name: Tonami Transportation co., LTD., Kuki branch office
Space: 26,900 m2
Structure: warehousing / reinforced concrete structure / five stories
Terminal / steel frame construction / one story
Office / steel frame construction / three stories
Source: Tonami Transportation Co., Ltd. (Translated by Bear Logi)
+ Nisshin to acquire Sakai Logistics Center in Sakai City, Osaka Prefecture - (22/02/2011)
On 21 February 2011, Nisshin Corporation announced that it has decided to acquire the trust beneficiary right of the following property.
Name: Sakai Logistics Center
Location: 138-3, Chikkoyawata-machi, Sakai-ku, Sakai City, Osaka Prefecture
Acquisition price: 11.5 billion JPY
Seller: KS Sakai GK
Land area: 32,522.47 m2
Building area: 63,597.34 m2
Type: Logistics warehouse and office
Source: Nisshin
+ Industrial & Infrastructure Fund Investment Corporation (IIF) to acquire 5 properties in Narashino City, Chiba Prefecture and other cities in Japan. - (22/02/2011)
On 21 February 2011, IIF announced that it has decided to acquire the following real estate in Japan and real estate trust beneficiary rights.
Overview of properties to be acquired
Name: IIF Narashino Logistics Center (Ownership of Leased land )
Location: 3-6-4, Akanehama, Narashino City, Chiba Prefecture
Special assets type: Real estate trust beneficiary right
Acquisition price: 3.3 billion JPY
NOI cap rate: 6.3%
Seller: GK Industrial Akanehama
Land area: 58,070 m2
Leasable area: 58,070 m2
Tenant: Mizuho Trust & Banking co., Ltd.
Name: IIF Atsugi Logistics Center II
Location: 602-9, Funako, Atsugi City, Kanagawa Prefecture
Special assets type: Real estate
Acquisition price: 3.1 billion JPY
NOI cap rate: 7.0%
Seller: Odakyu Electric Highway Co., Ltd.
Land area: 11,599.65 m2
Building area: 22,068.60 m2
Leasable area: 20,661.13 m2
Tenant: Sun Urban Building Co., Ltd.
Name: IIF Yokohama-Tsuzuki Logistics Center
Location: 747, Kawamuko-cho, Tsuzuki-ku, Yokohama City, Kanagawa Prefecture
Special assets type: Real estate trust beneficiary right
Acquisition price: 2.35 billion JPY
NOI cap rate: 6.5%
Seller: J-Rep M Limited
Land area: 5,088.48 m2
Building area: 9,562.26 m2
Leasable area: 9,464.03 m2
Tenant: Tokyo Logistics Factory Co., Ltd.
Name: IIF Saitama Logistics Center
Location: 1-398-3, Yoshino-cho, Kita-ku, Saitama City, Saitama Prefecture
Special assets type: Real estate trust beneficiary right
Acquisition price: 1.49 billion JPY
NOI cap rate: 8.2%
Seller: GK Bayside
Land area: 4,545.49 m2
Building area: 8,610.44 m2
Leasable area: 8,995.00 m2
Tenant: MM Corporation
Name: IIF Nagoya Logistics Center
Location: 2-27, Yanagida-cho, Nakagawa-ku, Nagoya City, Aichi Prefecture
Special assets type: Real estate
Acquisition price: 1.05 billion JPY
NOI cap rate: 7.9%
Seller: Taiheiyo Cement Corporation
Land area: 8,321.51 m2
Building area: 8,721.01 m2
Leasable area: 8,728.52 m2
Tenant: DHL Supply Chain Co., Ltd.
Source: IIF (Edited and translated by Bear Logi)
+ Bear Logi releases Japan Real Estate Sample Lease Contract research - (18/02/2011)
Bear Logi Co., Ltd., a Japanese Real Estate company based in Tokyo has released a new data sheet. The data sheet shows a Japan real estate sample lease contract. The Japan Leasing Contact Sample sheet can be downloaded here or from our research page on our website at http://www.bearlogi.jp/en/research.asp that also contains other research papers on Japan industrial real estate.
+ New ULI South Asia Chairman selected - (18/02/2011)
Simon Treacy, group chief executive officer of MGPA, an independently managed private equity real estate investment advisory company based in Singapore, has been selected as the incoming chairman of ULI for South Asia, a region which includes the Indian sub-continent, Australia and New Zealand, and all of South East Asia. With nearly 30,000 members worldwide, including more than 1,000 across Asia and Japan, ULI is a global non-profit research and education institute dedicated to responsible land use.
Simon, a leading ULI member, will serve on a voluntary basis for a two-year term that begins July 1, 2011 and ends June 30, 2013. He will succeed current ULI South Asia Chairman Jennifer Yeo, chairman of Yeo-Leong & Peh, LLC in Singapore. As the chairman for ULI South Asia, Simon will guide the direction of ULI's program of work in the region, including: various real estate trends conferences and topical forums; strengthening ULI's brand; outreach to new partners; land use and real estate-related research relevant to Asia; and ULI advisory service panels providing assistance to Asian markets. He will be organizing a leadership team in South Asia to assist in this effort.
Simon has served in numerous capacities at ULI, including service on the Japan Council, North Asia Executive Committee and South Asia Executive Committee. Simon's close involvement with ULI, combined with his vast expertise in real estate, will be an invaluable asset as the institute's operations in Asia continue to evolve. The thoughtful, decisive approach he applies to his business will significantly benefit ULI, as the institute repositions itself to be more effective and relevant in the new economy.
+ ULI Japan Seminar - Managing Risk on PRC Real Estate Investments - (18/02/2011)
2nd ULI Japan Legal Lunch Seminar: "Managing Risk on PRC Real Estate Investments – A Practical View"
ULI Japan will hold the 2nd ULI Japan Legal Lunch Seminar on Friday, March 11 from 12:00 noon to 13:30 at Allen & Overy's offices on the 38th floor of Mori Tower in Roppongi Hills.
Simon Black, Partner in Allen & Overy's Tokyo office, will give a presentation and lead a discussion. Simon will share his thoughts on risk management in PRC real estate transactions. The discussion will include a number of case studies addressing land auctions, transaction structuring, dealing with corruption risks and enforcement of legal rights.
Seating is limited to 24, so don't delay – register today!
PROGRAM
11:45 – 12:00 Registration
12:00 – 13:20 Lunch + Presentation
Simon Black, Partner, Allen & Overy
13:20 – 13:30 Q & A
PARTICIPATION FEE
YLG Members 4,000 yen
ULI Members 5,000 yen
Non-members 6,500 yen
* Priority in registration will be given to ULI Japan members. (Maximum 2 participants per company)
* Lunch boxes and drinks will be provided.
* The presentation will be in English. Consecutive interpreting will be provided.
Simon Black
Simon Black is a Partner in Allen & Overy's Tokyo office. Prior to Tokyo, he has worked in the firm's Shanghai office for eight years, managing the firm's China practice. Before that, he has worked in our Tokyo, Hong Kong and London offices. Simon represents a number of private equity funds and principal investors in real estate and infrastructure. Some of his clients include GE Capital, Harvest Capital, JPMorgan and Macquarie.
To register, simply contact ULI Japan
COI Uchikanda Building 8F
3-2-8 Uchikanda
Chiyoda-ku, Tokyo 101-0047
TEL: 03-5297-6132
FAX: 03-5297-6133
ULI Main Website http://www.uli.org
ULI Japan Website http://japan.uli.org
+ NTT Logisco to start rebuilding of Chiba Logistics Center Terminal A - (15/02/2011)
NTT Logisco, Inc. a Japanese Logistics Company announced that it began to rebuild the terminal A of Chiba Logistics Center located in Ichikawa city, Chiba prefecture, in order to respond to the need increase in the greater Tokyo area.
[Rendering of Chiba new A terminal]
[Chiba Logistics Center Terminal A Rebuilding Overview]
1. Background of Rebuilding
This industrial real estate center mainly provides
"high-value added service" such as mail orders, medical equipments and precision equipment inspection for customers other than NTT group. Thanks to good location and management ability of logistics center, it has robust acceptance of orders and it decided to rebuild and expand floor area as the new D building which was recently announced gets fully occupied and has little room. [Former terminal A: approx. 4,800m2 -> new terminal A : 7,000m2, approx. 12,000m2 (approx. 3,600 tsubo
) expanded]

2 Characteristics of new warehouse
The new industrial property, terminal A has 4-story warehouse which is approx. 4,000m2 (approx. 1,200 tsubo) per floor with office in place. It can be compartmented being appropriate to customers' needs and has a structure which makes cargo storage highly effective with 6m warehouse clearance and span planning in consideration of storage rack installation.
All the floors can be installed with air conditioning equipment and it has effective air conditioning by using metal sandwich panel for outer wall.
As standard it is equipped with monitoring camera and security device for entering a room as well and security guard is staffed for 24/7 to respond to customers' diversified needs.
This warehouse terminal has environmentally-friendly facility and operation system, and solar panels can be installed. As well, NTT Logisco will address facility rebuilding plan environmentally-friendly to neighboring housings by adopting active silencing apparatus to reduce heavy machinery noise during rebuilding work.
3 Facility Plan Overview
Address: 717-88, Futamata, Ichikawa city, Chiba prefecture
Structure: Steel construction, 8-story above around (4-story for warehouse)
Total floor area: approx. 17,000m2 (approx. 5,000 tsubo)
Note: approx. 73,900m2 (approx. 27,500 tsubo) as entire Chiba Logistics Center
Scheduled commencement of work: April 2011
Scheduled completion: December 2011
Source: NTT Logisco (edited by Bear Logi)
+ Sumitomo Warehouse to establish a warehouse exclusive for archive in Saitama Prefecture - (09/02/2011)
Sumitomo Warehouse announced that it has decided to build "Hanyu Archive Center (tentative name)" in Hanyu city, Saitama prefecture, as an important strategic hub for their archive business.
This center is scheduled to be completed in January 2012 as a facility in the greater Tokyo exclusive for information and records management such as documents, electromagnetic tapes and films.
The characteristics of the facilities and equipments of this center are; (1) ultimate level of security system, (2) highly disaster-resistant, (3) air-conditioning environment which makes long-term storage in multiple temperature and humidity zone possible, and (4) highly flexible facility layout.
Although Hanyu Trunk Room Office is already in operation in Hanyu city, this center is to improve Sumitomo Warehouse's facilities in order to correspond to expanding demand of information and records management and diversification of services.
Outsourcing of information and records management corresponding to enterprises' 2 types of needs which are cost reduction and strengthening of information management is expected to keep expanding in the future. Therefore, With this center as a service base, Sumitomo Warehouse will expand and develop archive (information and records management) solution of higher value.
Rendering
Facility Overview
Name: Hanyu Archive Center (tentative name)
Address: Hanyu city, Saitama prefecture
Site area: 34,014 m2 (10,289 tsubo)
Structure: Reinforced concrete, earthquake-proof
Building area: 6,394 m2 (1,934 tsubo)
Total floor area: 24,300 ㎡(7,350 坪)
Work commencement: February, 2011
Completion: January, 2012 (scheduled)
Source: Sumitomo Warehouse
+ Asahi acquires land in greater Tokyo for logistics property - (04/02/2011)
Asahi Bicycles Japan, a large retail chain has acquired 33,614m2 of industrial land in Kuki, north of Tokyo. The land has been purchased in order to build a new logistics property that meets the growing volume of sales and allows Asahi to streamline their supply and distribution costs in the Kanto area of Japan.
Land Details
Land: 33,613.93m2
Address: Kuki, Saitama, Japan
Purchase Price: JPY 825 million
Acquisition Date: February 2, 2011
Property Transfer Date: around May 2011 (Acquisition of the land is subject to, for development application permission).
Source: Asahi Co., Ltd.
+ Toll Group acquires Asia-Europe Sea-Air logistics company - (02/02/2011)
Toll Group, the Asian region's leading provider of integrated logistics services, has announced the acquisition of SAT Albatros (SAT), a Dubai-based provider of Sea-Air Services.
"The acquisition of SAT will further cement Toll's strategic position in the Middle East and in the Asia to Europe trade lane", said Toll Group's Managing Director, Paul Little AO.
"Building our business with a niche Sea-Air provider gives us further scope to offer our customers the opportunity to match speed to market with a cost-effective service. For customers who want to transport goods quickly but keep costs down, this integrated option can offer significant cost savings over pure air freight."
SAT will form part of Toll's rapidly developing Global Forwarding division, following the 2009 acquisition of Dubai-based Logistic Distribution System (LDS).
Providing combined Sea-Air logistics from Asia to Europe with its weekly scheduled services, SAT offers an alternative to pure air or sea freight on this route.
SAT reported revenue in excess of US$40 million 2010. The company expects the acquisition to be earnings per share positive in its first year.
Source: Toll Group