On June 17th Mapletree Logistics Trust Management Ltd., as manager of Mapletree Logistics Trust is pleased to announce that the acquisition of KPPC Pyeongtaek Centre, South Korea (the "Property") has been completed further to its press release dated 25 May 2011. The Property was acquired for a consideration of KRW 75.6 billion (approximately S$85.9 million) and has been fully funded by debt.
Source: Mapletree (Edited and translated by Bear Logi)
Medipal Holdings Corporation has announced that Mediceo Corporation, a consolidated subsidiary of Medipal, would complete construction of Nagoya Area Logistics Center on June 9.
Nagoya ALC is an urban full line logistics center based on the management plan "2014 Medipal Medium-term Vision". Medipal invested total amount of 8 billion Yen to build the facilities which manage medical drugs. The building has 4 stories above ground, 24,616 m2 total floor space, and its annual maximum delivery capacity is estimated around 220 billion Yen.
Medipal regards the new facilities as an up-to-date Logistics Center focused on the delivery optimization to cut the loss in delivery process from the manufacturer to the actual end users.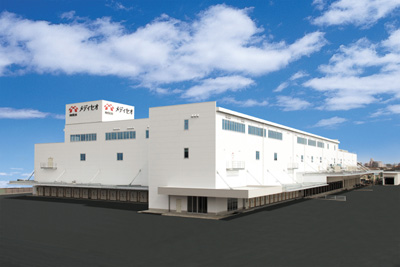 [Outline of Nagoya ALC]
Name: Mediceo Nagoya ALC
Address: 1-5 Nishi buwajima cho Ni Shinden Kiyosu-shi, Aichi
Site space: 31,272 m2
Construction space: 10,156 m2
Total floor space: 24,616 m2
Construction: Combined method of Rhamen brace
Cover area:
Completely covered/ Aichi, Gifu, Mie, Toyama, Ishikawa, Fukui pref.
Partially covered/ Syohoku area in Shiga, and Shinnomiya area in Wakayama pref.
Source: Medipal Holdings (Edited and translated by Bear Logi)