Kanto Hitachi Transport Service Co., Ltd has announced that it had transferred all stocks from Shimadaya Transport, a consolidated subsidiary of Shimadaya, a major noodle manufacturer in Japan, and starts operation as a new company from October 2011.
Hitachi Transport System has been completely assigned storage and distribution service from Shimadaya in Tokyo metropolitan area from 2002, and upon completion of the transfer of stocks, Hitachi intends to expand food distribution operation not limited to Shimadaya customers, but also to the new customers.
According to the MLIT truck statistics May 2011 published On August 11th, the amount of specially combined cargo investigated from 26 objective companies counts 4,902,445 ton, which decreased approx. 600,000 ton compared to the previous month (89.1%). On the other hand, compared to May 2010, it had increased approx 70,000 ton (101.4%).
The amount of shipped package delivery counts 253,803,000, which decreased approx. 902 mil from previous month (96.6%). Compared to the May 2010, it had increased approx. 1,414,000 (105.9%).
Source: MLIT (Edited and translated by Bear Logi)
On August 10th Sagawa Express Co., Ltd announced that it had completed ongoing construction of large-scale logistics center located in Higashi-ku, Fukushima.
Sagawa Express Kyushu branch and Fukuoka store will be transfered into the new LC. The former Fukuoka branch will change name to Tsukushino store, and start operation from August 21.
The newly installed automatic sorting machine enables packages to be sorted accurately in short time. That leads to the high distribution efficiency and drastic improvement of transportation quality.
The facilities have many functions to reduce energy consumption taking environmental damage reduction into consideration through installing LED light on the sidewall advertisement, motion censor, daylighting system, and water saving fixtures.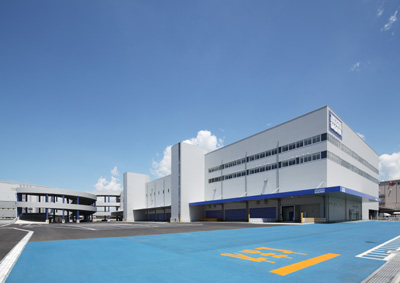 [Overview of the facilities]
Location: 4-12-5 Hakozaki Futo Higashi-ku Fukuoka
Site space: 23,140.73 m2
Total floor space: 38,753.35 m2
Construction: Mixing structure of RC pole / Structural steel beams / 4 stories above ground
Number of handling goods per a day: 107,000
【1F Automatic sorting system】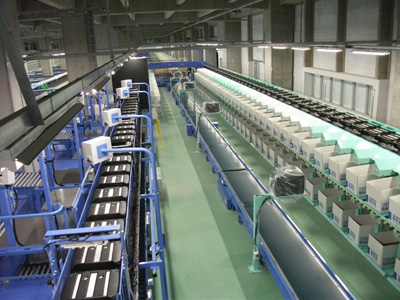 Sorting ability: Max 7,200 tray per hour
Object size: Max (L)350×(W)450×(H)150
Min (L)100×(W)100×(H)1(Business Card size)
Object Weight: Max 5kg per tray / Min 20g per tray
Number of chute: 120
【2F Cargo Center automatic sorting system (slide sorter)】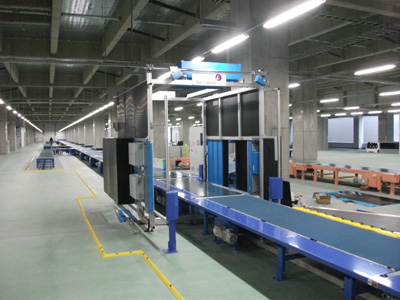 Sorting ability: Max 6,000 tray per hour (high-speed mode)
Object size: Max (L)1000×(W)800×(H)800
Min (L)200×(W)100×(H)5
Object Weight: 50 kg – 0.1kg
Number of sorting direction: 13
Sagawa Express expands small scale service center nationwide using cargo vehicle
as Transportation method. The facilities will be operated as a integrated base of
cargo transportation in Fukuoka prefecture.
Currently 22 small stores (incl. 14 service center) runs operation in Fukuoka,

and it will be as occation demands.
Source: Sagawa Express (Edited and translated by Bear Logi)
On Aug 1st Amazon Logistics Japan, which takes charge of logistics operation from Amazon.co.jp, has announced that it would open three logistics facilities within this year to straighten various product line-up and stocks.
Newly establishing Fulfillment Center (FC) is tentatively called "Amazon Sayama FC", and "Amazon Kawashima FC". "Amazon Kawagoe FC" has been operated since last year in the Kawagoe city.
Based upon the opening of each FC, Amazon.co.jp will expand its business reinforcing "In stock" products to enlarge wide range of category such as consumer electronics and Kitchen appliances.
Source: IT Media (Edited and translated by Bear Logi)